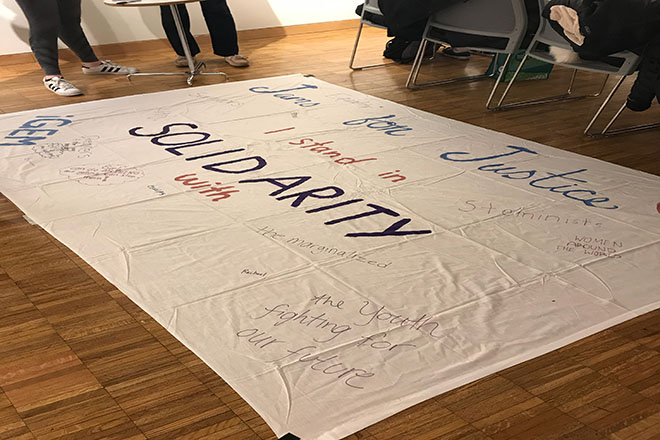 "Who here likes Beyoncé?"
That is how Medill sophomore Lexi Vollero announced her performance to an audience of women of all ages who filled the Dittmar Gallery on Wednesday. The singer, who performed an acoustic cover of Beyoncé's "Pretty Hurts," was the first of many girls to add her voice to the conversation on gender equality at Jams for Justice.
The event, organized by the International Gender Equality Movement (IGEM), Northwestern's chapter of the UN's Girl Up campaign, was an International Women's Day commemorative event. For an evening, Northwestern students and members of the Evanston community expressed what being women means to them by reciting poems and performing songs.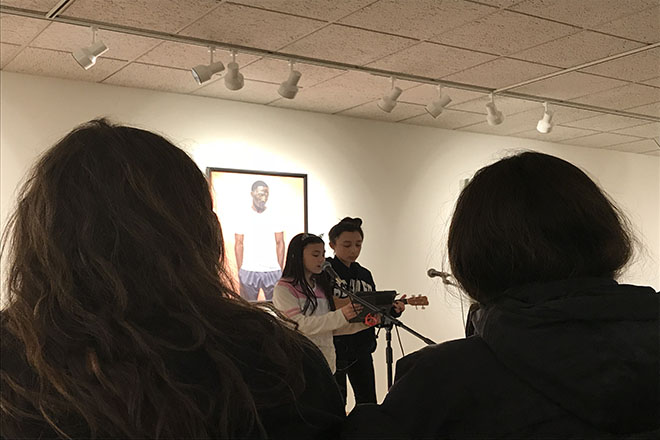 Jade Hsu, accompanied by her little sister, performed "How Far I'll Go," a prominent song on the Moana soundtrack. While Jade played the ukulele, her sister sang along. After a thundering ovation, they were asked to come back and perform an encore.
The motivational and supportive environment pervaded the evening. While some women were encouraged to perform again, others, who had not previously signed up for the mic, gained confidence throughout the event and decided to volunteer to show their talent.
Weinberg junior Numaya Shahriar recited a poem she wrote for a "History of Feminism" class. By "saying [it] out loud for the first time," she expressed the impact feminist initiatives such as Jams for Justice have in her life.
"Thank you for fighting for everyone," Shahriar said. "That's what makes a feminist. We aren't just looking out for ourselves. We're looking out for other women. Women of color, trans people, our LGBTQ allies, our male allies. … Thank you, women, for being freaking inspiring."
For the organizers, however, the event was not only a chance to provide women with a safe and empowering space to express themselves, but to help others. Jams for Justice also served as a fundraiser in which all proceeds will be donated to the Northwestern Center Against Sexual Assault. According to Weinberg sophomore Lucy Yang, Campus Events Co-chair for IGEM, although the group often focuses on raising money for global organizations from places such as Guatemala and Liberia, this time they decided to take a local approach.
"One of our goals is to be more locally involved," Yang said. "We thought [it'd] be nice to donate to a local non-profit. And we also have a local development [team] that works with Evanston and Chicago girls. We're bringing it back to the area."