What do you get when you combine female empowerment and a love of all things food? The answer is the Sugar and Spice Summit. Lauren Goldstein, a Communication senior, created this convention – her "baby" – last year. As a communication studies and gender studies major whose passions are "dessert and girl power," Goldstein created a convention where women in the food industry gather together in panels to create connections with college-aged women, provide them with career information and inspiration and naturally, supply them with copious food samples. Lauren made sure that attendees to the second annual event came out with the greater knowledge that a love of food can turn into more than just a hobby.
Goldstein created the Sugar and Spice Summit out of a desire to empower women following the drama and misogyny that sprouted from the 2016 election results. The first summit took place in Harris Hall on Northwestern's campus. She contacted the speakers, booked the space, coordinated the tickets and got sponsors for the event all on her own, from the bottom up.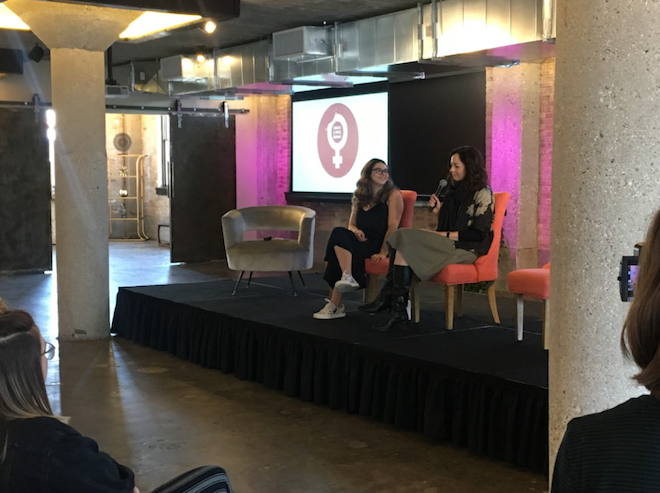 "It was like I jumped into the deep end and had to teach myself how to swim," Goldstein said. The event was a success and as soon as it ended, Goldstein started planning this year's Summit.
This year, the event took place at the Savage Smyth in Chicago. The venue is a big upgrade from Harris Hall, considering its big, open layout on the fourth floor with concrete floors, brick walls and leafy indoor plants. As a bonus, the Savage Smyth has a beautiful view of the Chicago skyline, complete with an accessible observatory and deck decorated with comfortable chaise lounge chairs.
The event was structured so that between speakers and panels, attendees could mingle and network with the speakers and of course, munch on the free and trendy snacks that dotted the venue's tables. To kick off the event, there was an hour to meet the speakers and the other attendees while sipping cold brew coffee from Chameleon and eating Noosa Yoghurt and treats from Animals Love Cupcakes. After that, Goldstein initiated the event with a short and passionate speech about the Summit.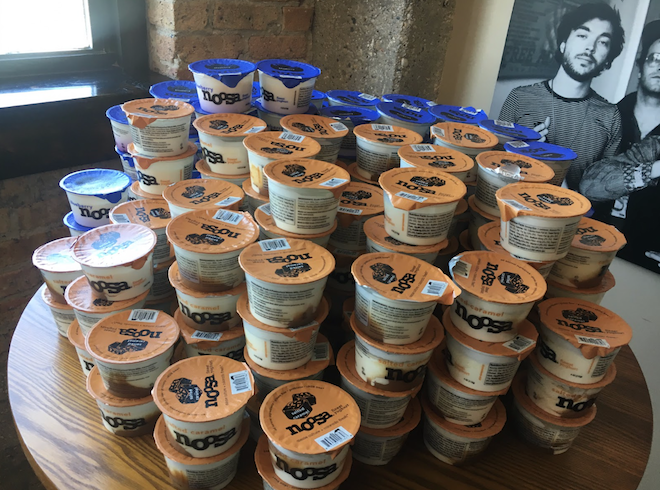 Summit attendees didn't only come from Northwestern. Birgita Kancleris, a student at the University of Illinois in Chicago heard about the Summit through Spoon magazine, a publication that Goldstein is heavily involved in.
"If it's a networking event, something cool, I'm all for it!" Kancleris said. "Girl power, I love it. Power to the she."
Alexus Serrano, a Chicago native, said that Goldstein personally invited her over her recently-created food Instagram's DMs. She found out on Thursday that the event was happening and knew that she couldn't miss it. She said that the whole summit was "aesthetically really beautiful" and that she hoped that the speakers would go into deeper topics than just food.
The keynote speaker and the first guest to sit on the stage's plush coral seats was Kerry Diamond, the co-founder and editorial director of Brooklyn-based publication Cherry Bombe Magazine. Diamond was the perfect keynote speaker, considering her magazine's manifesto is that it "celebrates women and food." Overarching her speech as one of Diamond's main messages was that our generation can change the world through food and media.
"You have such a voice that no generation has had because of social media," said Diamond. "You do have power, you do have a voice, you do have each other."
After a 20 minute snacking and networking break was the first panel: "So You Want To Be Your Own Boss?" The panel featured Janie Vitilina, Lindzi Shanks and Chrishon Lampley who all founded or own innovative food-related startups. The women started off by saying that they went to college for non food-related courses of study, but serendipitously followed their passions and had enough drive to eventually become successful kickstarters in the food industry.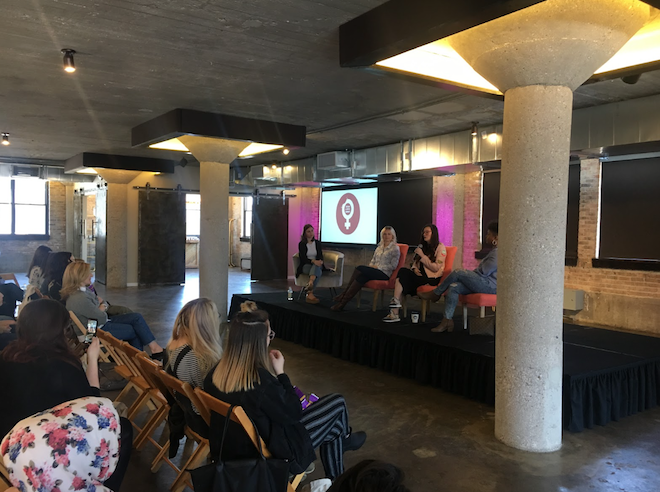 When asked about their challenges in carrying out their business operations, Lindzi Shanks, co-owner of XO Marshmallow, a café that only serves variations of marshmallows, warned the audience that when you create your own business, you will spend 90 percent of your time with "people problems or problems of people." Chrishon Lampley, founder and CEO of wine company Love Cork Screw, calls herself the "comeback kid." She lost almost everything in her office due to a flood and had to start from scratch. Today, her company is going strong with 12K loyal followers on Instagram and an appearance on CNBC. All of the panelists seemed to agree that running a business is never easy, but it is highly worth the work.
The next panel was called "The Politics of the Kitchen." Three speakers, Christine Cikowski, Amanda Saab and Nicole Pederson, each explained how they overcame political boundaries to carry out their successful endeavors in the food world. Saab, a Muslim woman, shared that when she heard that 80 percent of Americans have never met a Muslim, she decided to create a movement called "Dinner with Your Muslim Neighbor." She began hosting dinners for large groups of people to learn about her culture and encouraged others to do the same.
Saab's life growing up centered around food, something that has become "sacred and special" to her. Cikowski and Pederson also directed food companies that worked to combat gender and social stereotypes and barriers.
"Everyone needs to eat," said Christine Cikowski. "I can't think of a better thing than food to bring people together."
Then, it was time for lunch. Sectioned off in the corner of the spacious venue was a station with over 100 Sweetgreen salad samples. There were delicious treats from Animals Love Cupcakes – namely pieces of a pink white chocolate bark with sprinkles and popping candy. Attendees were welcome to bring their food up to the rooftop and take festive "food in the air" posed pictures with the gorgeous skyline in the background.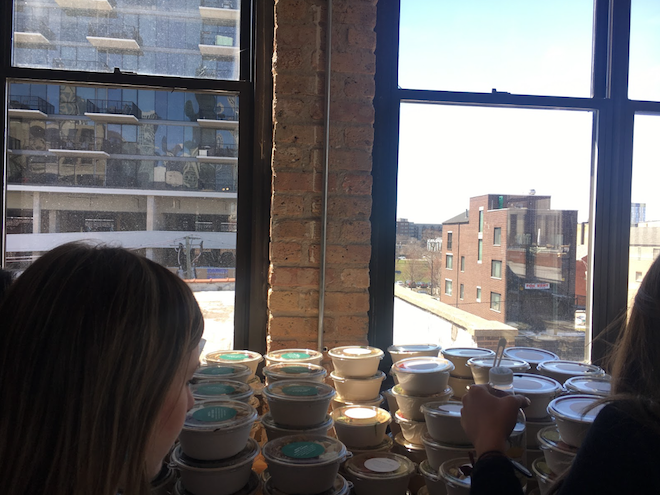 The following panel was called "Combating the Mindless Scroll" and featured three extremely hip and well-dressed women who were all clearly Instagram influencers. Alexandra Machover, a video producer for Spoon University, and Christina Slaton, a photographer for Lettuce Entertain You Restaurants, were scheduled to speak. The panel was livened up with their stories of how they began their careers after being discovered by big social media firms – something that everyone who maintains a cohesive "aesthetic" on their Instagrams hopes to happen to them someday. All three women drove the point home that being yourself and showing who you are through your social channels is vital for being discovered.
The fourth and final panel was called "Do You Follow?" where three women in food marketing and PR talked about how the industry is changing and what their main goals are. Carissa Remitz, Erin Byrne and Stephanie Dietz talked about how they finessed their glitzy jobs and about the strategies they use to secure a loyal consumer base. A motif of the talk was how a personal touch like giving free samples to passerbys and responding to DMs really affects product consumption and customer relations.
After the panels were all over, guests were invited to the observatory on the fifth floor for "Meets + Treats!" The room was crowded with hungry girls weaving through the crowd to get samples of passion fruit meringues, raspberry snickerdoodles, sugar cookies from Sparkle Fruits, cupcakes from More Cupcakes and delicious gooey cookies from Big Fat Cookie. Every guest also received a generously-sized custom goody bag stuffed with exciting snacks and coupons on their way out. Not only was this a time to network, but also an opportunity to splurge on some much-needed sugar. Desserts and girl power are truly worth celebrating.