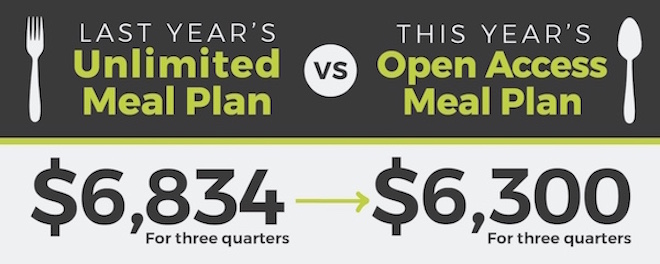 Northwestern rolled out a new meal plan for this year, and to first-years who have never experienced a meal plan before (as well as upperclassmen on a meal plan), the new changes can appear daunting. Luckily NBN has you covered.
Last year, Northwestern and Sodexo had 15 focus groups composed of everyone from first-years to graduate students to gather feedback on the state of dining and how to improve it. One of the most frequent complaints they heard was from first-years, who felt trapped in the 14 meal plan. Many said they felt stressed over choosing when to eat meals.
"We wanted to alleviate that stress, which is how we came to the Open Access meal plan," said Buzz Doyle, General Manager of Sodexo on Northwestern's campus. Currently, first-years are only able to use the Open Access meal plan, or the "new and improved" Unlimited meal plan.
Before this year, Northwestern gave first-years the option to choose between either 14 meals a week or Unlimited. Freshmen were automatically signed up for the 14 meals plan, with the option to switch before a cutoff date. Instead of Dining Dollars, there were Equivalency Meals, which were a maximum of $9 meal swipes that could be used for any dining outlet besides a dining hall. Unlike Dining Dollars, Equivalency Meals did not roll over. It was common to see C-Stores and Late Night dining options flooded by students at the end of the week, and probably even more common for Equivalencies to go forgotten come Sunday.
Dining Dollars are meant to be a solution to common complaints with Equivalency Meals. Instead of week-to-week allotments, students receive all of their extra dollars all at once (either $125 for Open Access or $225 for 14 meals a week), with a rollover every quarter. If students run out of their Dining Dollars, Cat Cash can be used. Cat Cash is where students put in their own money, which is attached to their Wildcard for use anywhere but dining halls.
Although the thought of eating as many meals as one wants can seem appealing to athletes or frequent snackers, not all students find it convenient.
"I understand what they were thinking with it, with the Unlimited meal swipes, but honestly, with the hours the dining halls operate and the hours that they serve actual main dishes, it's not all that helpful," Communication first-year Cas Pent said. "It would be more helpful to have a 21 meal plan or to have the 14 with more points to spend elsewhere."
Along with structural changes, Northwestern wanted to make sure students found their options more appealing in both flexibility and price.
"The price for the most popular plan [Open Access Plan] decreased $534 versus what it would have been if we did nothing," Director of Dining Ken Field said. "All plans decreased in price except the Flex 210 which is slightly higher because of a change in the number of meals and the increase in dining dollars."
The decrease in prices of each plan, however, still might not be what every student is looking for. Off-campus students find themselves considering whether or not to sign up for a meal plan.
"Price and distance were the two factors that definitively ruled out renewing my meal plan," Yannick Kumar, a Communication fourth-year, said. "I really liked dining hall food (an unpopular opinion), but my plan came to around $11 a meal, which is really expensive in the long run. And to have to travel for each meal from my apartment in downtown Evanston would be a pain."
Northwestern has had three separate contracts with Sodexo, its food provider for the past 20 years. These contracts, a Chicago campus contract, an athletics department and a dining hall contract, both on the Evanston campus. The University is attempting to figure out whether Aramark, Compass or Sodexo, the three largest nationwide campus food providers, will work for campus dining. In addition to Sodexo, Aramark also has contracts on the Evanston campus. This year, student and faculty meetings will be held throughout Fall Quarter to determine the best dining company for Northwestern.
Norris also made some changes this year. One of the dining options in Norris used to be North Shore Pizza, a station with pre-made pizza that an employee would reheat for the customer. This year, North Shore Pizza was revamped and reopened as The Kiln along with this new tech.
"We were pre-baking the pizzas,"said Sara Chapperon, Director of Marketing at Northwestern's Sodexo offices "It just wasn't as fresh as we'd like to deliver. We did a lot of visits to the National Restaurant Association show."
At the National Restaurant Association (NRA) show, Northwestern dining found new tech to add to dining, like new ovens for The Kiln, which cooks a pizza in under 93 seconds. Much of their inspiration came from Blaze Pizza, the national pizza chain created by Northwestern alumni with locations in downtown Evanston and Chicago.
Even more changes are coming, with 1835 Hinman slated to be demolished and its residents set to move to the residential college Willard halfway through the year. Once Hinman is lost, one of the South campus To remedy the situation, Frans, Willard's popular late-night dining, will be open night and day. It will not have any major menu changes like Lisa's, the north campus late-dining spot, which recently switched to a Mexican-inspired menu.
In dining halls like Elder, Northwestern is testing reusable carry-out containers and reusable water bottles. Students can purchase a reusable container, which is cleaned afterwards by the dining staff. A purchase comes with a card which can also be shown to the dining staff if students do not have the reusable container with them.
Northwestern dining is also planning to implement reusable water bottles. The addition of electronic soda machines is part of a larger plan to have students use Northwestern water bottles with Radio Frequency Identification (RFID) chips in them. These bottles track the amount of refills students are allotted. Students will be able to purchase refills, for anything from one-time refills to unlimited for a whole quarter. The new soda machines will eventually need to detect the chip before dispensing. Dining staff hope to roll out this program by the end of the quarter, if not by November. Field knows it might be hard for students to catch onto the new initiative.
"There's going to be a learning curve because we're going to want students…if they wanted to carry drinks out of the dining halls in the past they've been able to do that with their own water bottles, and we want them to use our water bottles in the future," said Field.
This school year, many aspects of the dining hall atmosphere will be different, but Northwestern and Sodexo are making these changes in the hopes of improving students' experiences. Chapperon understands how important food is to students.
"We're really trying to encourage that the dining life is highly incorporated and it's all part of your whole Northwestern experience."